POSTPONED: NO EXCUSES INNOVATION: Interactive Workshop for Innovative Manufacturing Leaders
March 30 @ 1:00 pm

-

5:00 pm
*NEW DATE COMING SOON*
THIS IS A MANUFACTURER ONLY EVENT
As manufacturers continue to evolve it is common for existing organizations to only maintain what the perceive to be working. This interactive workshop takes a look at what you are already doing well and find new innovative ways to raise the bar. Constant reinvention and renewal are essential to building the manufacturing success into the future. 
THIS EVENT WILL SELL OUT SO RESERVE YOUR SEAT EARLY.  It is only available for 30 attendees and must be manufacturing leaders. This ensures your ability to take away specific innovation and ideation tools that you can use right away.
Why Should You Attend?
Bruce A. Vojak – world renown author of the book No Excuses Innovation is leading an exclusive meeting of minds that has been molded to drive success through outside thinking and looking at future needs from a different lens. If you want to think differently and become more competitive and inventive in your market and organization itself. This is for you!
What Will We Do?
Spend the first part of the workshop networking with other creative and empowered leaders to get ready to put your ideas to work.  Then start to learn about why innovation is important and how you can start working it into your daily practices from the expert himself – Bruce.  After your learning has started to begin it is time to put it in action.  Bruce will lead an interactive workshop that will help you identify the questions (and answers) specific to your direction.  You will leave feeling inspired to start implementing ideas and empowered with the knowledge you have just learned to do it.
AGENDA
1:00pm -1:30pm: Networking & Coffee
2:00pm-3:30pm: Innovation Concept Overview 
3:30pm-5:00pm: Interactive Workshop 
PRESENTERS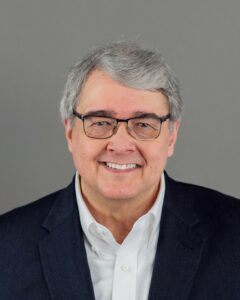 Bruce A. Vojak | Founder of Breakthrough Innovation Advisors, LLC and Author of No Excuses Innovation Strategies for Small and Medium -Sized Mature Enterprises 
Spanning a career at the intersection of business and technology, Bruce has experienced and explored innovation purposefully and variously.
Having first established himself as a successful technical contributor and technology executive in industry, he understands first-hand the business need for and benefits of innovation. Having later transitioned to academia, he followed his passion by conducting groundbreaking research on innovation practice across a wide cross-section of mature companies and industries.
As a leading authority on innovation in general, and Breakthrough Innovation in particular, Bruce brings a unique and powerful combination of deep and broad expertise—and a rich network of other experts—to guide his clients in harnessing its benefits.
Before founding Breakthrough Innovation Advisors, Bruce served as Associate Dean and Adjunct Professor in the top-ranked Grainger College of Engineering at the University of Illinois at Urbana‐Champaign. Earlier in his career, he was Director of Advanced Technology for Motorola's non-semiconductor components business, held research and business development positions of increasing responsibility at Amoco Corporation, and was on the research staff at MIT Lincoln Laboratory. He holds BS (with Highest Honors), MS, and PhD degrees in Electrical Engineering from the University of Illinois at Urbana-Champaign and an MBA, with concentrations in finance and marketing, from the University of Chicago's Booth School of Business.
Cost: $150.00 per person
Contact Name: Camryn Tunney
Contact Email: ctunney@imec.org
Additional Events